Torque Ratchet Wrench

Overview of Torque Ratchet Wrench
Usage Example of Torque Ratchet Wrench
Work fine with cheek teeth and adjacent teeth.

A ratchet with 48 gear teeth ensures smooth operations. Vibration transmission of gear to the patient can be reduced. The result is faster and comfortable operations.

Cover the torque range from 15 to 60 N·cm.

Contra-angle drivers can be mounted. Just one piece of the driver covers the use of prosthesis screws and the measurement of torque.

Placing needle that reduces reading errors.

The placing-needle design at the peak value has drastically improved visibility, thereby reducing reading errors to zero.
Adverse Effect of Over Torque
Abutment screws and lab screws must be tightened within the range of the specified torque. When the tightening torque is excessive, part of the screw threads will be deformed, and the expected ri gidity and performance cannot be obtained. Adverse effects caused by over torque must be avoided at least to prevent deformation of the screw threads.
Screw Threads Tightened with Over Torque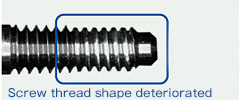 Applicable Implant System
Since hand piece drivers of various implant systems can be mounted, the system can be app lied to products of many manufacturers.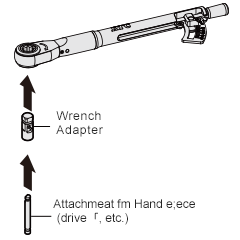 Product Info of Torque Ratchet Wrench
Bundled Items
Torque Ratchet Wrench
Product Name
Torque Ratchet Wrench
Model No.
D581TRW1
Feeding Angle
7.5°(No. of gear teeth: 48)
Torque Range
15〜60N・cm
Calibration Range
5N・cm
Outer Dimensions
110(total length) X 13(head) X 8(thickness) mm
Weight
35g

Dental implant Surgery Tool:General Medical Device
Brand Name:Torque Ratchet Wrench Medical Device Notification No.:26B3X10009150001
Incorporated Items
Product Name
Ultra-short wrench adapter
Model No.
D581NEW1-WAS
Optional Items
Lineups of Wrench Adapter
Product Name
Ultra-short wrench adapter
Model No.
D581NEW1-WAS
Dimension
10((total length)mm
Applications
Anterior teeth, Adjacent teeth, Cheek teeth
Lineups of Wrench Adapter
Product Name
Through-wrench adapter
Model No.
D581NEW1-WAP
Dimension
13(total length)mm
Appli1cations
Cheek teeth, Adjacent teeth
Product subject to torque check service (for two years after purchasing a brand-new product)
Safe and trusted support system by accuracy checking service
To ensure the secure use of the product manufactured by KTC for a long period of time, we offer safe, trusted support for the product as our unique after-sales service by sending the product for the torque check by the wrench manufacturer.
Precautions for Use of Torque Ratchet Wrench
■To maintain the accuracy of Torque Ratchet Wrench

The Torque Ratchet Wrench is a measuring instrument. Attention to handling precautions is required to maintain measurement accuracy. Be sure to check for any problems before using the wrench and always handle carefully during the use. After using the wrench, it should be cleaned with hot water and autoclave sterilization and then stored in an individual sterilizer pack. With the Torque Ratchet Wrench, malfunctions may occur in the measurement accuracy as it is used, so we recommend checking accuracy (or adjust the accuracy as required) on a regular basis (once a year is recommended). In addition, if any problem is noted, be sure to send the product to us for a check. *Be sure to carefully read the package insert of the product before using it.

■Inspection service of Torque Ratchet Wrench

[Inspection] We will check the accuracy, or if required, we wil I make the adjustment or repair the failure (free of charge for inspection only).

Contact the dealer from whom you purchased the product.

Disassembly Method for Cleaning